PVC two cavity pipe extrusion production line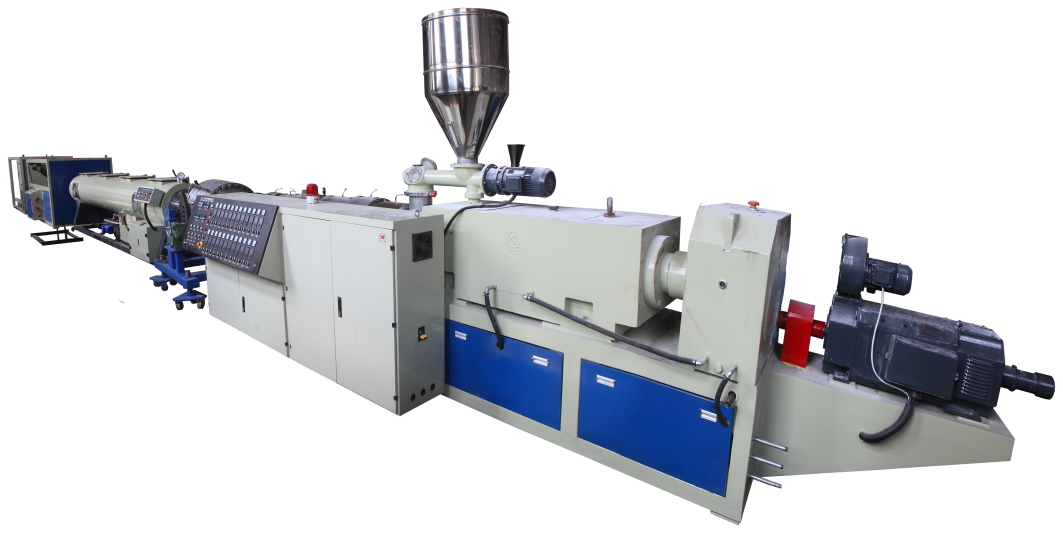 The 20-63mm PVC pipe production line(two cavity) designed by Jiangsu Lianshun Machinery Co., Ltd mainly includes: powder feeder, conical twin screw extruder, mold (two cavity), vacuum calibration tank, hauling machine, cutting machine and stacker. The PVC pipe produced by this production line is generally used for water supply, drainage pipe and wire threading pipe, etc..

The characteristics of 20-63mm PVC pipe production line(two cavity):
The 20-63mm PVC pipe production line(two cavity) is Jiangsu Lianshun Machinery Co., Ltd. according to market requirements, absorbing the same industry at home and abroad to introduce advanced technology in the field of plastic extrusion made the latest research results. This production line is suitable for high speed extrusion of PVC, UPVC and other raw materials. Because this production line using a direct extrusion process, man-machine interface control system, it has a high degree of automation, reliable quality, stable operation, welcomed by domestic and foreign customers and so on.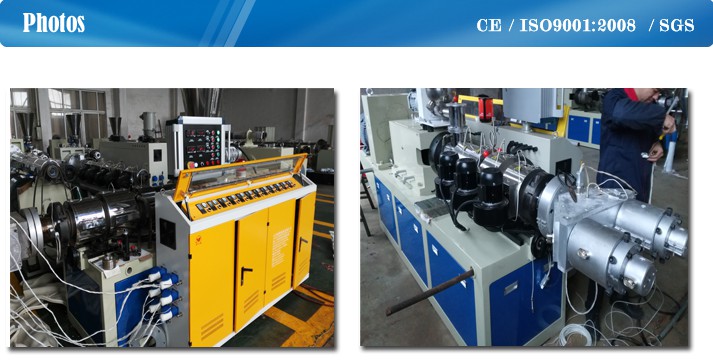 1. Powder feeder: It is made of high quality stainless steel. It has the characteristics of high pressure and corrosion resistance. It can transport PVC powder well.
2. Conical twin screw extruder: It is equipped with a mandatory quantitative feeding system, automatic temperature control system, vacuum exhaust system and automatic speed control system to ensure accurate control of the material temperature and plasticization of the stability.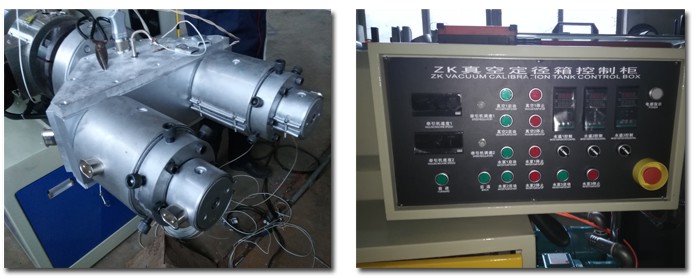 3. PVC pipe mold: Mold material is 45 # quenched and tempered steel by forging processing and surface polishing. Due to the low melt pressure, it can keep the low melt temperature in high extrusion.
4. Vacuum calibration tank: Due to the high hardness and high quality stainless steel plate manufacturing, the tank is resistant to high pressure and corrosion resistance.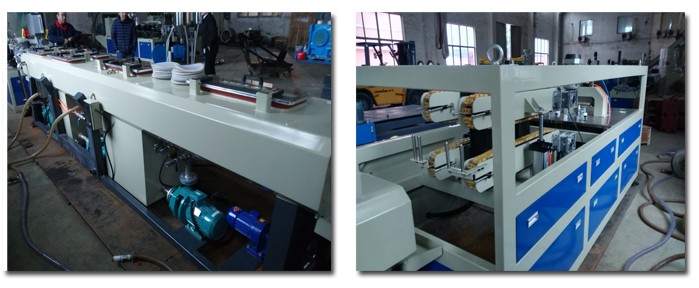 5. Hauling machine: It adopts frequency control mode. The traction frame using the chain of sub-moving to ensure that the traction speed of the same, flexible pneumatic compression, bearing with Block-aligning structure, can effectively reduce the installation error. It uses V-type high friction coefficient rubber block.
6. Cutting machine: It uses the form of lift knife cutting. This cutting method is simple and effective. It has the characteristics of fast speed, low failure rate, and significant cost savings.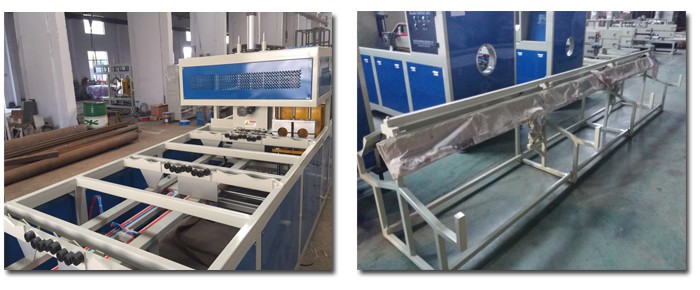 7. Stacker: The pipe can be placed on the top of its.
8. Control system of the production line: Customers can choose Germany's Siemens PLC control system. It's intelligent. The customer can also choose common control. It uses Siemens electrical parts and Japan Omron temperature control table. Its control is simple and easy to operate.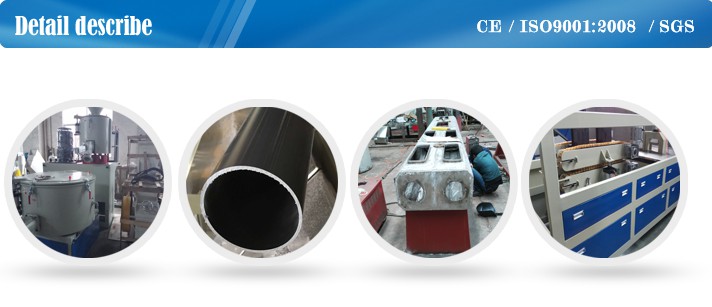 Type / Parameter

Pipe diameter

(mm)

Extruder type

Production speed(m/min)

Capacity (kg/h)

Installed power

(kw)

Dimensions

L * W * H

PVCG63

Ø16-Ø63mm

SJSZ-51/105

1-12

80-150

50

29x2.1x2.5m

PVCG63

Ø16-Ø63mm

SJSZ-55/110

1-12

100-180

65

30x2.2x2.5m

PVCG63

Ø16-Ø63mm

SJSZ-65/132

1-12

150-250

85

31x2.3x2.5m